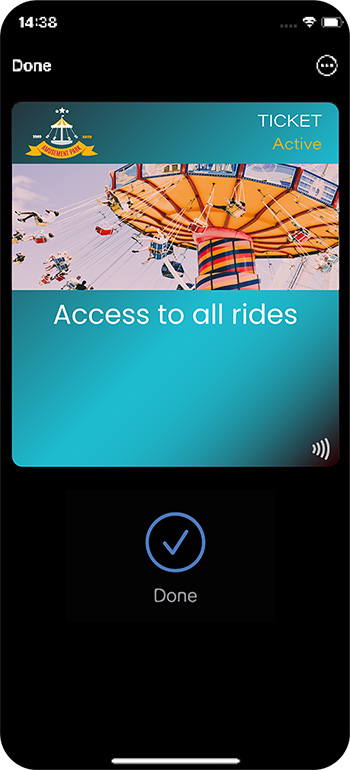 An NFC pass is an electronic record of a loyalty card, ticket or ID, which can be presented securely by your smart phone over a short distance, using its NFC (Near Field Communication) signal. In the same way that Apple Pay and Google Pay replaces bank cards when making contactless payments, Apple & Google Wallets can also store NFC digital passes to replace physical loyalty cards, event tickets, club membership numbers, QR-codes and other IDs used for non-banking applications.
✔ NFC passes are simply way more convenient and many times faster to use. (Compatible readers auto-detect relevant passes in an instant – no searching for digital QR-codes or physical cards).
✔ Simplifying operations while reducing costs and environmental impacts. (Organisations can dispense with having to produce, issue and manage large numbers of physical cards, tags or tickets).
✔ NFC passes open-up direct customer engagement opportunities. (Boost engagement with push notifications for reminders and incentives).

Apple Wallet supports NFC passes through the Apple VAS (Value Added Services) protocol. Apple VAS is compatible with iPhone 6 and later models, and all Apple Watches.

Google Wallet Passes are supported by the Google Smart Tap protocol. Any NFC-enabled Android device running Lollipop 5.0 or higher supports Google Pay and Smart Tap. The Wear OS version of Google Wallet for watches does not yet support NFC passes.
NFC passes can be of various types, to make them easier to distinguish visually when viewed in the wallet. Google and Apple have templates for NFC digital passes of different types, including: loyalty, event tickets, boarding passes and coupons.
Standard NFC tag readers cannot read NFC wallet passes. Apple and Google certified NFC Pass readers are required – these are configurable to read a merchant's own encrypted passes and include the automatic pass selection features that make NFC wallet passes so much more convenient to use.
Demo NFC passes for VTAP readers
For demonstration and development purposes only, we can provide NFC passes that will work with our VTAP readers out-of-the-box.
If you need advice on pass issuance options for production use – contact us.